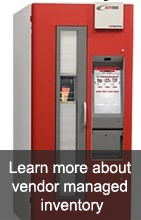 Tool-Krib Supply Company is an industrial tool supplier specializing in metalworking tooling, abrasives, coolants, cutting tools, measuring instruments, gage repair & calibration, along with custom tool manufacturing. We work with machinists LIKE YOU who have large and small machine shops or manufacturing facilities who make parts or repairs on-site.
Most of our customers are in the aeronautical, medical, and metalworking industry. We know that customer's like you need more than an "add to cart" button when making an industrial tool purchase.
When you need that custom tool for a specialty material or new project, you should have personal service and attention to your specific job requirements. Our sales team has the experience and knowledge to direct you to the best cutting tools, abrasives or industrial tools for your job.
With over 75 years of experience in the metalworking and industrial supply field, we provide you with cost-saving solutions, personal service and exceptional delivery timeframes to keep your shop up and running.
Tool-Krib Industrial Tools Distributor Base
Tool-Krib Supply is an official distributor for the worlds premium cutting tool brands & specialty tool suppliers in the industry. Not only will we keep you stocked with the industrial tools you need direct from the supplier, we will give you information on the latest products and cost-saving sales as they hit the marketplace. We're in constant contact with our manufacturers and will pass the information on to you.
Tool-Krib Supply can also provide you with custom tool management. We offer complete tool vending solutions & vendor managed inventory software to keep you shop fully stocked and on top of your business. Tool management and tool vending solutions will eliminate shortages of essential tools & supplies and keep costs down saving you money throughout the year.
We also offer a full line of industrial supplies. You won't need to shop at 3-4 different online companies for the industrial supplies you need. Buying end mills to mill exotic materials, to personal protection equipment, coolants, solvents, sandblasting abrasives and more? No problem. We have it all.
How to Place an Order with Tool-Krib Supply
Our ordering process is simple. You can either call us, fax or email us with an order - it's that easy. You'll have the personal support from us that you won't get with an "add to cart" button.
We value you & understand your business demands. We'll make sure you are stocked with the correct tools you need, when you need them, to get the job done on-time.
Shipping Your Order
Tool-Krib Supply offers same day shipping on most products in stock. If you have an urgent issue and order by our cut-off time, you'll get the tools you need overnight. In most cases, orders ship within 24-48 hours. You can always pick up same day at one of our NJ locations.
We ship to customers not only in the USA but to all points around the globe. If you are in Asia, the UK, Europe or in Central or South America, we'll ship you the tools you require. Feel free to contact us with your tooling requirements.
Become a Valued Tool-Krib Customer
We provide premier manufacturing solutions including
Value Added Services
,
Tool Crib Management
,
Vendor-Managed Inventory
,
Tool Repair & Reconditioning
,
Gage Repair & Calibration
, and
Custom Tool Manufacturing
.
We offer a massive product inventory of industry-leading brands with expert customer service.
Our goal is to make your life easier, keep you stocked, and provide you with the best industrial supply solutions for all your manufacturing requirements.
Contact us at 800-448-4748 for more information or download our
credit application
to get started with your first order.